About Us
Introducing Head Chefs and Proprietors Ray and Mags O'Connor. Having cooked in some of the best Irish and international kitchens, they bring a wealth of cooking experience to The Old Stone House Restaurant Ballinlough, County Roscommon. 
BOOK NOW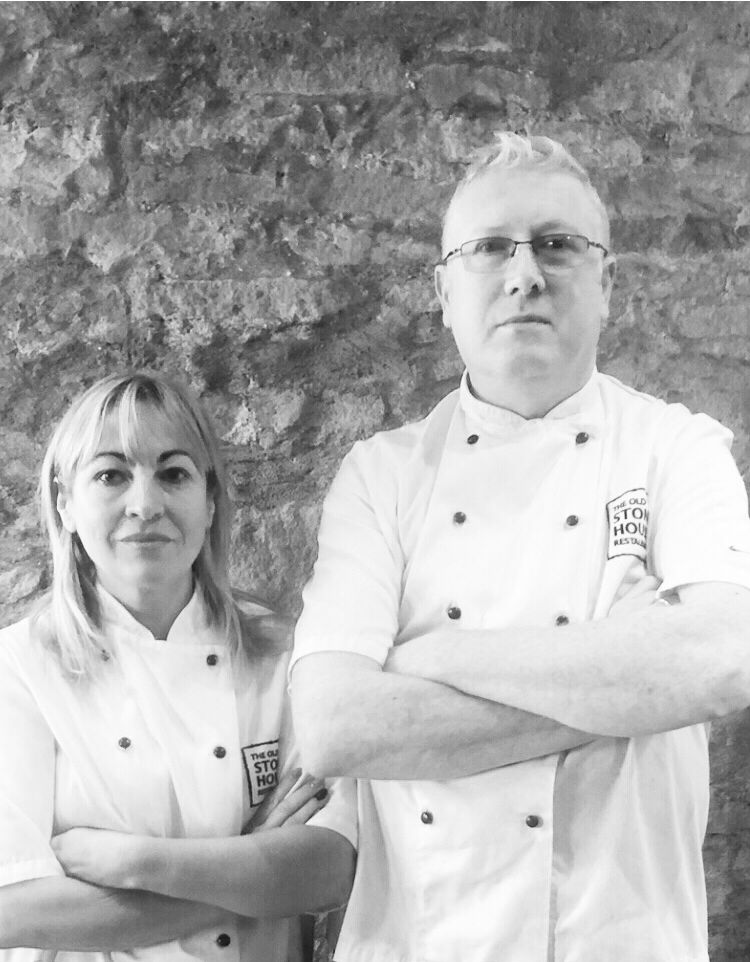 Cooking is our passion and what brought us together. Married over ten years we make a great team in and out of the kitchen. Having worked as Head Chefs in The Old Stone House Restaurant Ballinlough for three years, in 2019 we became proprietors too. We are loving this challenge and are delighted to be in such a great community here in Ballinlough, Co. Roscommon. Customer feedback is what drives us. We cook to order all our meals using the freshest, and where possible locally sourced and organic ingredients. We hope you enjoy your dining experience with us.
"Our mission is simple – to provide exceptional food, wine, service and atmosphere for all our customers."

Ray & Mags O'Connor, Head Chefs & Proprietors
the old stone house restaurant Roscommon
Fresh Ingredients
We choose the freshest of in-season ingredients in our all dishes. We strive for organic and locally sourced (where possible).
Vegan, Vegetarian & Gluten-Free
Our extensive menu selection has something for everyone and to suit all ages. Please let us know about any dietary requirements when booking. We have many Vegan, Vegetarian and Gluten-Free dishes to choose from. 
Creative Chefs
As professional chefs with years of experience, we are always pushing ourselves to improve our recipes and recipe ideas. Our menu is evolving all the time with creative ideas and mouthwatering flavour combinations. 
Irish & Local Suppliers
Using top quality Irish suppliers is so important to us. Not only for the quality but also for taste. Please click here to view our Irish food suppliers.
Home Roasted Coffee
We too love good coffee and use a traditional Italian coffee machine. All our coffees can be made with a single or double shot of espresso. Just let us know! 

"Great Sunday lunch went two weeks in a row and even better it was served by exceptional staff. Lots of parking. Would highly recommend it. A must-try."
Marina C

"We have had the pleasure to dine in The Stone House. Even though the sun was shining a cosy fire and candlelight created a really warm and welcoming atmosphere. The staff were super friendly and efficient with superb service throughout our meal…The food was amazing very generous portions, hot plates with each course arriving just on time! We were here courtesy of a prize voucher…..we seriously can't wait to return. Travelled from Sligo and would have no hesitation in recommending "The Old Stone House" to other North West folks. A trip well worth the journey …. well-done folks we need more places like here to give Ireland a good name for eating out."
Siobhan & Grainne

"Had a fabulous meal here yesterday. Didn't have a table booked but the lovely lady ensured we didn't have to wait very long. Beautiful starters and incredibly tasty main courses set us up for our journey. Very nice staff and a beautiful restaurant. Highly recommend."
Coochiecoo4 (TripAdvisor)

"Cannot praise the meal enough"
"Had the pleasure of dining at this wonderful restaurant this evening. Cannot praise the meal enough, all courses were one better than the other. The staff were wonderful and could not do enough to accommodate all our requests. Would definitely recommend a visit. My friends and I will be back soon."
Ger Casey Waldron
For bookings or to check availability please call 094 964 0332 or email [email protected]
*Please note: A deposit is required for bookings over 10 persons. Deposits are refundable up to 24 hours in advance of bookings only.*
MONDAY - CLOSED 
TUESDAY - CLOSED 
WEDNESDAY - CLOSED 
THURSDAY - CLOSED
FRIDAY - 5 PM - 9 PM
SATURDAY - 5 PM - 9 PM
SUNDAY - 1 PM - 7 PM
The Old Stone House Restaurant Ballinough, Castlerea, Co. Roscommon F45 XH67
Call: 094 964 0332